If you are in to something new and unique, a hanging fireplace is a good idea. It will definitely make your living room area convenient. Just with proper arrangement, you will end up with a beautiful set up in your living room. Fortunately, we have compiled beautiful ideas for you to look at.
If you like something simple and minimal, you may want this design. The compact design of the fireplace looks great in the corner. Also, black and white color combination for a living room would always look good.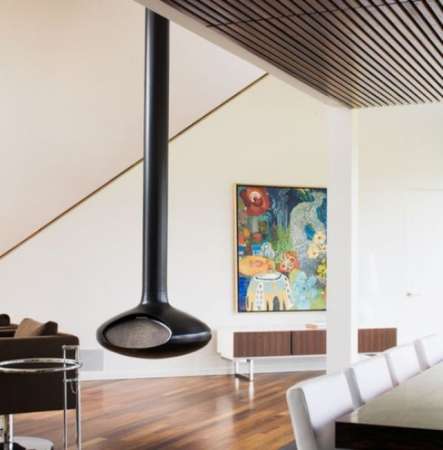 A hanging fireplace like this looks elegant. It would make you glad that a design like this can turn 360 degrees to heat any area of the room. A design of hanging fireplace looks great even with neutral colors.
This is an example of a wood stove fireplace. A wood stove for a fireplace is pretty traditional. This kind of fireplace has been relied to give warmth to a place for so long.
It is important that if you decide to have a fireplace like this, your place should have high ceilings. This one has actually a large diameter. It has wide opening on its front so a lot of people can enjoy the warmth and beauty of the flame.
This one is stunning. If you want for something traditional with a twist, this might interest you. This will surely attract your friends and family. Just be sure that children will not reach for this.
It will be a great idea to place something comfy around the fireplace. Like a big pillow or a comfortable sofa would be wonderful. Now you can chill and hang out with your friends while enjoy the fireplace.
This kind of set up fits this hanging fireplace for a contemporary style. This design has been known as the world's most beautiful object in Italian Pulchra Design Awards. You might be interested to have this for your fireplace.
Are you bored of the usual black design? You can have this fireplace instead. It is a bright orange model. This will look unique and catchy in your living room.
This is a rustic design of a hanging fireplace. It is in oval shape and is a see through design. It will be perfect hanging fireplace at the center of your room, instead of being placed at the corner.
This is another variation you can have for the design instead of having it in just plain black. The green feature makes the look unique and refreshing. This hanging fireplace will be perfect with a view from the outside.
This is a traditional lamos hanging fireplace. The design fits the neutral theme of the living room area. It would also be great to choose dark wooden floor to make the whole look beautiful.
This hanging fireplace is a big one. The big and black design of your fireplace will make the look of your living room more elegant. It will be perfect to match this design with light colored theme for the living room.
If you want a fireplace that is attached in a corner, this might interest you. The stunning design of this fireplace could be perfect for your living room. Also, it is not as big as others, so it is not as bulky to look at.
White is a beautiful theme for a home. You can match it with a white hanging fireplace just like this. Your living room will look neat and bright.
It will also be a great idea to install modern lights together with the hanging fireplace in your living room. The lights make the place look beautiful and warm.
Aside from pillows and sofas, it wouldn't hurt to experiment a bit and try a hanging chair beside the hanging fireplace. It will be a good relaxing place to read a book or think thought. This will be the highlight of your living room.
If you want to be a little creative, you can make a mini castle out of your hanging fireplace. Make sure that this will match the concept of your living room decoration. Your little kids will be amazed seeing this.
Source : https://creativedesign.tips